2009 National Pictures of the Year Awards
PICTURE OF THE YEAR – Sponsored by Reuters
Rafal Gerszak – Aurora Photos
U.S. Army Sergeant Chris Nelson takes a nap during Operation Pirates Cove in Shamal district, Khost province, Afghanistan. Rafal Gerszak / Aurora Photos
---
PHOTOJOURNALIST OF THE YEAR – Sponsored by The Canadian Press
Andy Clark – Reuters
* This photo gallery requires the Flash Player plugin and a web browser with JavaScript enabled. *
---
SPOT NEWS – Sponsored by The Camera Store
First Place – Steve Russell – Toronto Star
Street brawl on Richmond Street. Steve Russell / Toronto Star
Second Place – Darryl Dyck – The Canadian Press
Helicopter pilots watching controlled fire burns on Mount McLean. Darryl Dyck / The Canadian Press
Third Place – Carlos Osorio – Toronto Star
Family members mourn a drowning victim on the shore of Moon River. Carlos Osorio / Toronto Star
---
GENERAL NEWS – Sponsored by CNW Group
First Place – Rafal Gerszak – Aurora Photos
U.S. Army Sergeant Chris Nelson takes a nap during Operation Pirates Cove in Shamal district, Khost province, Afghanistan. Rafal Gerszak / Aurora Photos
Second Place – John Lehmann – The Globe and Mail
Coxswain of the Canadian men's eight senior rowing team holding the Olympic torch and returning to the shell before heading across Elk Lake, just outside Victoria, B.C. John Lehmann / The Globe and Mail
Third Place – Dan Riedlhuber – Reuters
Gabriel Leahy drags his father's duffle bag for his father, Cpl. John Leahy, after arriving at Edmonton Garrison following his tour of duty in Afghanistan. Dan Riedlhuber / Reuters
Honourable Mention – Louie Palu – Zuma Press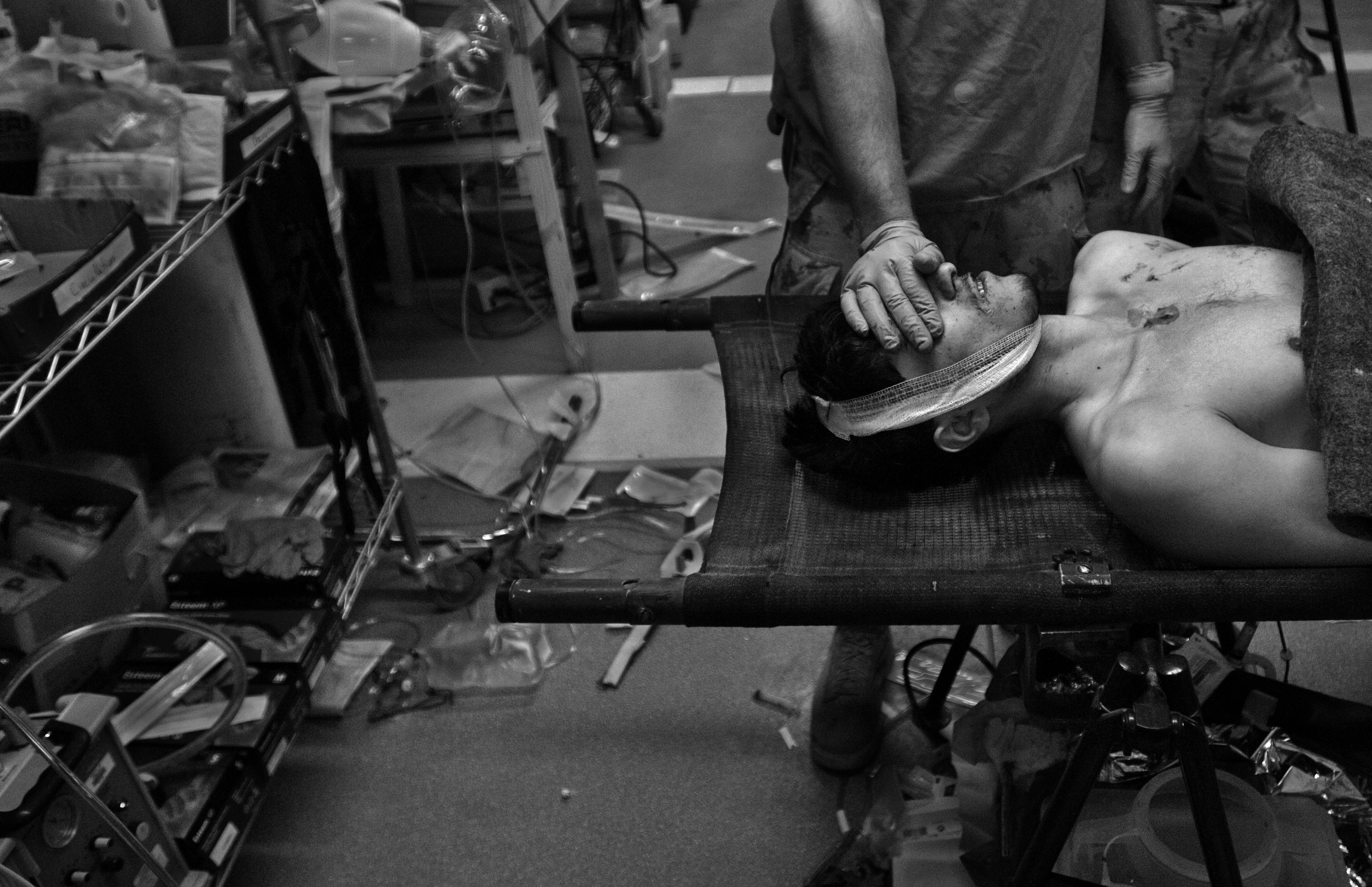 A Canadian Army Medic gently closes the eyes of an young Afghan man after he was caught in crossfire and fatally shot during a battle between the Afghan Army and Taliban insurgents in Zhari District, Kandahar Province, Afghanistan. The escalating conflict has resulted in a record number of Afghan civilian casualties this year. Louie Palu/ Zuma Press
---
FEATURE – Sponsored by Winnipeg Free Press
First Place – Leah Hennel – Calgary Herald
Dogs patiently waiting for their owners at a dog parking lot. Leah Hennel / Calgary Herald
Second Place – Don Denton – Victoria News
Seven-year-old Olivia Brown makes a face at herself in the mirror as she stretches during her dance class. Don Denton / Victoria News
Third Place – John Lehmann – The Globe and Mail
Aurora, a Beluga whale at the Vancouver Aquarium, swims through a cloud of afterbirth with her baby girl. John Lehmann / The Globe and Mail
---
SOCIAL ISSUES – Sponsored by Headshots
First Place – Wayne Glowacki – Winnipeg Free Press
After being diagnosed with tuberculosis in 1964, Catherine Moise was taken from her northern community to a sanatorium, where she gave birth to a daughter named Agnes. The baby was taken from her and died shortly after. For 45 years Catherine didn't know Agnes was buried until she was shown last summer; this was her first visit. Wayne Glowacki / Winnipeg Free Press
Second Place – Paul Galipeau – Xtra! Magazine
Lucy Chapman (left), her partner and their daughter remain locked in a group hug during Guerilla Freeze, an event meant to desensitize passers-by to the sight of same-sex displays of affection. Paul Galipeau / Xtra! Magazine
Third Place – Louie Palu – ZUMA Press
The shadow of a Canadian soldier looms over a bound and blindfolded suspected insurgent during three days of fighting in the insurgent stronghold of Siah Choy in Zhari District, Kandahar province, Afghanistan. Louie Palu / ZUMA Press
---
PORTRAIT / PERSONALITY – Sponsored by Beau Photo
First Place – Christopher Pike
Ed 'Junkie' Loughary drives along the shore of the Mississippi River in Festus, Missouri, with his son Clayton sleeping in his lap. Christopher Pike
Second Place – Darren Calabrese – The Canadian Press
Portrait of political satirist and TV personality Rick Mercer. Darren Calabrese / The Canadian Press
Third Place – Andy Clark – Reuters
Don Fleming, 82, sits on the bench while taking part in a geriatric hockey tournament. Players gathered for the three-day tournament for those 75 years and older. Andy Clark / Reuters
---
PICTORIAL – Sponsored by Canon
First Place – Mark Blinch – Reuters
Buildings are seen inside the financial district in downtown Toronto. Mark Blinch / Reuters
Second Place – Peter Bregg
Sea gulls fly in formation above water near the island of Thassos in northern Greece. Peter Bregg
Third Place- Jason Franson – Edmonton Sun
John Percy Page High School student Cory Womacks walks past a hoarfrost-covered tree on a cold February morning. Jason Franson / Edmonton Sun
Honourable Mention- Ric Ernst – Vancouver Province
Jennifer Lange of Vancouver cools off in a spray hose at Deer Lake Park during the Virgin Festival 09. Ric Ernst / Vancouver Province
---
SPORTS ACTION – Sponsored by Nikon
First Place – Mike Cassese – Reuters
Minnesota Twins batter Justin Morneau fouls a ball off his cheek during the first inning of their Major League Baseball game against the Toronto Blue Jays. Mike Cassese / Reuters
Second Place- Todd Korol – Reuters
Allie Hann-McCurdy holds on to partner Michael Coreno of B.C. after she slipped during their routine in the senior dance free program at the Canadian Figure Skating Championships. Todd Korol / Reuters
Third Place- Stuart Gradon – Calgary Herald
Ontario skip Glenn Howard celebrates a final rock victory over Saskatchewan at the 2009 Tim Hortons Brier. Stuart Gradon / Calgary Herald
Honourable Mention – Amber Bracken – Edmonton Sun
Dustin Thompson gets run over at Bulls for Breakfast during Big Valley Jamboree. Amber Bracken / Edmonton Sun
---
SPORTS FEATURE – Sponsored by Lowepro
First Place- Jonathan Hayward – The Canadian Press
Canadian skier Emily Brydon celebrates her second-place finish following the Lake Louise Women's World Cup Downhill race. Jonathan Hayward / The Canadian Press
Second Place – Andy Clark – Reuters
Sweden's back-up goalie Kim Martin fixes her hair after slipping her arms out from the sleeves of her padded jersey while sitting on the team bench during play against Finland at the Hockey Canada Cup. Andy Clark / Reuters
Third Place- Steve Russell – Toronto Star
Fans reach for a ball during batting practice before the Toronto Blue Jays beat the Boston Red Sox 5-3 at Roger's Centre. Steve Russell / Toronto Star
Honourable Mention – Leah Hennel – Calgary Herald
Calgary Flames' Jarome Iginla was greeted by some fans from the Prairie View Colony. Leah Hennel / Calgary Herald
---
PICTURE STORY
First Place – Philip Cheung – The National
Second Place – Deborah Baic – The Globe and Mail
Third Place – Sami Siva – Independent
Honourable Mention – Aaron Vincent Elkaim – Independent


* This photo gallery requires the Flash Player plugin and a web browser with JavaScript enabled. *
---
SINGLE MULTIMEDIA – Sponsored by The Globe and Mail
First Place – Peter Power – The Globe and Mail
Second Place – John Lehmann – The Globe and Mail
Third Place – John Lehmann – The Globe and Mail
Honourable Mention – Bernard Weil – Toronto Star


* This photo gallery requires the Flash Player plugin and a web browser with JavaScript enabled. *
---
TEAM MULTIMEDIA – Sponsored by Vistek
First Place – Pawel Dwulit, Scott Simmie, Randy Risling and Isabel Teotonio – Toronto Star
Second Place – Lucas Oleniuk, Randy Risling – Toronto Star
Third Place – Brent Foster, Poul Madsen, Line Wolf Nielsen – The Globe and Mail
* This photo gallery requires the Flash Player plugin and a web browser with JavaScript enabled. *
---
STUDENT PHOTOJOURNALIST OF THE YEAR 2009
Cole Burston – Loyalist College
http://coleburston.tumblr.com/
---
Judges:
Pictures of the Year:
Alain-Pierre Hovasse
This long-time photographer and photo editor has worked in the Canadian newspaper industry and overseas for major news organizations. For the past two years, he has worked for VANOC, planning the photographic coverage for the Vancouver 2010 Winter and Paralympic Games.
Christopher Morris
He shoots regularly for several magazines as well as being a contributor to Corbis and Redux Pictures. For the past eight years, he has also been teaching photojournalism at Langara College and The Vancouver Institute of Media Arts.
Bob Carroll
This legendary photo editor spent most of his career with UPI and UPC. Though recently retired, Bob is still active in the photo community and was hired as one of the venue Photo Managers during the 2010 Olympic and Paralympic Winter Games in Vancouver.
Multimedia of the Year:
Ken Gigliotti
Veteran award-winning, NNA-nominated photojournalist, 2001 CP Photographer of the Year, Winnipeg Free Press
Cecil Rosner
Veteran journalist and managing editor for television and radio at CBC Manitoba
Jeff peeler
President and Executive Producer at Frantic Films
Kyle Irving
Award-winning producer and Vice-President of Production for Eagle Vision, Meeches Video Productions and Century Street Distribution.
---