Photographer's Q&A – Jason Franson
This week's Q&A is with Edmonton photographer Jason Franson, 1st Place 2008 Sports Feature winner, and Honourable Mention, 2008 Photojournalist of the Year. His web site is jasonfranson.com.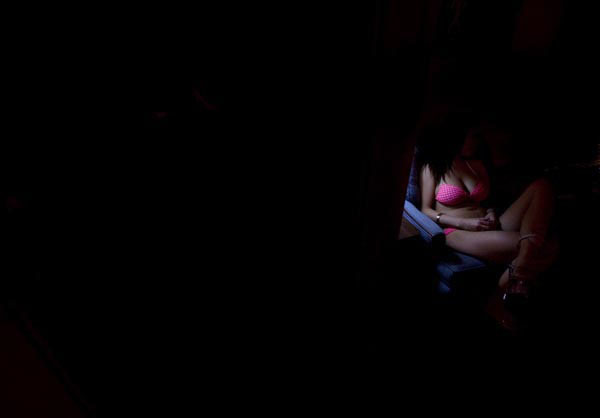 Edmonton, Alberta – A lap dancer waits for customers to arrive on a slow night at Chez Pierre Cabaret. The family-run strip club and lap dance club has been an Edmonton landmark for 40 years. (Photo by Jason Franson)
What were your first steps in the industry?
In 1999, I bought my first point-and-shoot camera and quit my job as a steel worker in British Columbia to travel Ireland and work there for four months. This is where I came to the realization that seeing new things, meeting new people, and photographing them was what I wanted to do with my life. I wish I had that trip to do over again now.
After I came back from Ireland, I looked at getting into photojournalism schools. In 2000, I was put on the waiting list for Loyalist College. I was accepted two weeks before the course started, but I wasn't prepared to go, so I took a year to work and upgrade my schooling and later applied at SAIT in Calgary, where I was accepted the following year.
After graduating from SAIT in 2003, I came to the Edmonton Journal for a summer internship. When that ended, I was contacted by Tom Braid of the Edmonton Sun for freelance, and later by the St. Albert Gazette for a staff job. I worked there full time and kept freelancing for the Sun on my days off. I worked about 27 days a month for two years. In 2005, the Sun hired me full time.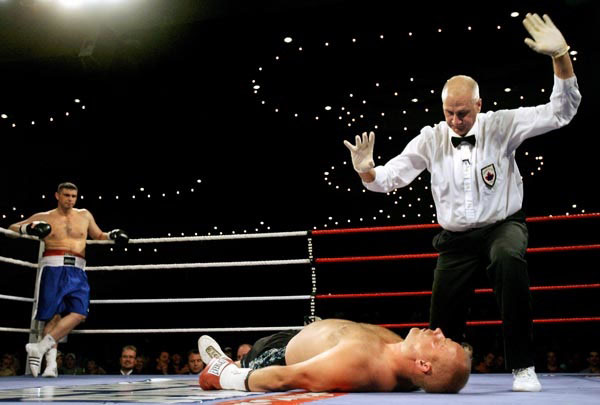 Edmonton, Alberta – Bobby Kalmakoff rests in the corner after knocking out Paul Suzdalov in 23 seconds of the first round during the Bad Blood boxing event at the Shaw Conference Centre. Winner, 2008 Sports Feature. (Photo by Jason Franson/ Sun Media)
When you were a student, what did you want to do after graduation? Are you now where you thought you would be?
Like most photojournalism graduates, I had big ideas of being a world-travelling documentary photographer. I was set on covering the Zapatista movement in Chiapas, one of the poorest states of Mexico. But I soon realized the experience, money and talent that it takes to make it as a documentary photographer. So my first goal was to work in the newspaper industry, get hired on at a daily paper, and go from there. Maybe one day when the time is right I will follow that dream.
I am already beyond where I thought I might be. I have done alright for being a one-time uneducated, rough around the edges, hard-labouring, part-time homeless, high-school dropout and construction worker, who never really thought it was possible to make it as anything else. Anything beyond this is just a bonus.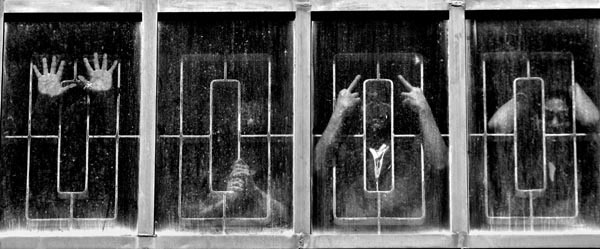 Edmonton, Alberta – Inmates at the Edmonton Remand Centre press against the dirty windows of their crowded facility. With Edmonton's growing crime rate, the over-populated remand centre has become a problem and a new facility needs to be built. Honourable Mention, 2006 General News Photo. (Photo by Jason Franson/ Sun Media)
What or who are your biggest inspirations?
I have a few big inspirations. My grandpa is one of my biggest. At 14, during the Great Depression, he came to Canada from South Dakota on a covered wagon to work as a farmhand. He ran moonshine on the side, to make ends meet. Eventually, he saved enough money to buy the farm from the people he worked for.
He used to ride horseback for 90 miles in a night to sell moonshine and he wouldn't get back to the farm until 4 a.m. Then he would hit the fields and walk behind a horse-drawn plow for the day. The dedication to do what needed to be done without having to beg, compromise your principles or sell your soul is very inspiring to me.
Also family, friends and loved ones, and co-workers, former co-workers and people I've met who understand the art of photography and what it means to stay true to yourself, like Chris Schwarz, Andy Clark, Amber Bracken, Darryl Dyck, Tim Smith and David Bloom. They all provide inspiration in one way or another. Photographic legends like Eugene Richards, Robert Frank and Henri Cartier-Bresson inspire me with their work.
I also get inspiration from one of my favorite books, The Grapes of Wrath; icons and fighters like Che Guevara and Nelson Mandela; and music by Tom Waits, Rage Against the Machine, Ben Harper and Bob Dylan.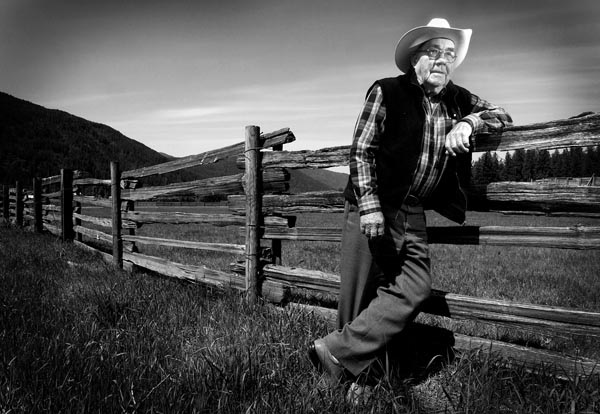 Lawrence Franson, my grandfather. (Photo by Jason Franson)
Do you have a mentor?
Chris Schwarz of the Edmonton Journal, and formerly of Maclean's, has been my number one mentor. When you're feeling like you're in a slump, he provides a wealth of information, feedback and interesting stories that help motivate you. He can be called on at anytime to go for a beer, give you an honest opinion and inspire you with his take-no-shit attitude. Andy Clark has also been very helpful. He never lets me down.
What was a pivotal point in your career?
I would say moving to Edmonton in 2003 to do a summer internship at the Edmonton Journal, which led to meeting Tom Braid, who gave me a shot at the Edmonton Sun. And here we are after two years of freelance and four years on-staff.
What are you working on now?
I am working on a personal project that I am really stoked about. It has been one of the most challenging things I have ever done:
Strip club/lap dance club Chez Pierre Cabaret was the first place in Edmonton to go topless back in the '70s, and then bottomless, in the '80s. The place is so dark, I have been shooting everything at 1250 ISO from 1/6th to 1/10th of a second on the original Canon 5D. Also, getting people comfortable enough to shoot their photo has been tough. If it turns out like I'm hoping, I would like to make it into a book, even if it's just 1,000 copies.
The project has been going on for about four months now, periodically. I get to work on it about once or twice a week in between work and a personal life.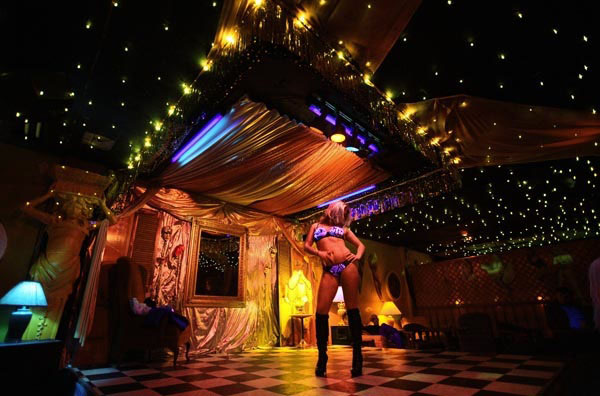 Edmonton, Alberta – Dion performs on stage at Chez Pierre Cabaret. (Photo by Jason Franson)
How important to you is multimedia?
I really like watching television. I'm going to be honest here. Online multimedia bores me and I think it bores most readers. At least that's what I figure by the low numbers of hits. I can't make it past the one-minute mark on most projects. This makes me wonder how long the average watcher, who doesn't do this for a living, stays tuned in.
But that being said, I do shoot multimedia because right now it's necessary. I try to do the best job I can because of pride. But do I enjoy it? No!
Maybe it's the frantic bumbling and fumbling way I have to do it (with time constraints because of staff shortages) that turn me off. This leaves the end product looking like a really bad version of what you'd see on some Third World television station set up in a grass hut. I do respect the people who are doing really nice work and can afford to put the time necessary into it.
How do you ensure you are progressing as a visual journalist?
I got into this business as a late starter at the age of 30, so I push myself every day to become a better photojournalist. I am my own worst critic. I almost obsess over my work, trying to see what I should have done, how I could have shot it better, and hope to get better quicker.
I also constantly look at others' work to see what they are doing and how I am stacking up against them. I shoot a ton. I go to hockey games on my days off to shoot and take photo walks around the city at night. I think it all helps the progression of becoming a better photojournalist.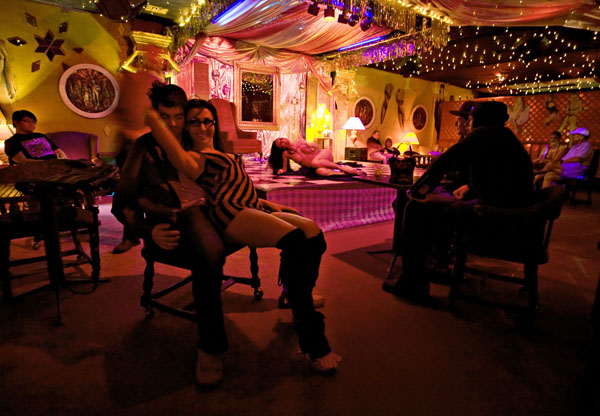 Edmonton, Alberta – A lap dancer gives a customer a dance at Chez Pierre Cabaret. (Photo by (Jason Franson)
What are some of the must-see websites you visit? Please include why you visit these sites (e.g. inspiration, guidance, information, education).
I do a daily check of: boston.com/bigpicture, Sports Shooter, npac.ca, aphotoaday.org and three or four newspaper sites just to see what's shaking for the day and to see what was been shot overnight.
For inspiration I head to: eugenerichards.com, viiphoto.com, magnumphotos.com and the weekly msnbc.msn.com updates.
For casual newsy browsing I like to check out truthdig.com.
What is your favorite way to unwind?
Spending time with loved ones, going for beers with friends, kayaking, camping, listening to music, playing guitar and playing PS3 NHL 09.
What's the best piece of advice anyone ever gave you about being a photographer?
"When it comes to making a good photo, all that matters is what your heart is telling you and not what every know-it-all, who really knows nothing, is trying to tell you."
"Give photos room to breathe."
"Always try to tell a story in a photo with relevant content."
"It's all about light, emotion, mood and background."
"Learn from the ones that do it best, not the ones that just talk a good game."
"Shooting only what your newspaper wants will kill your photographic soul and stunt your growth as a photographer."
Edmonton, Alberta – Eve takes a smoke break from performing lap dances at Chez Pierre Cabaret. (Photo by Jason Franson)