Photographer's Q&A – Amber Bracken
This week's Photographer's Q&A is with Amber Bracken, Edmonton Sun. Her web site is amberbracken.com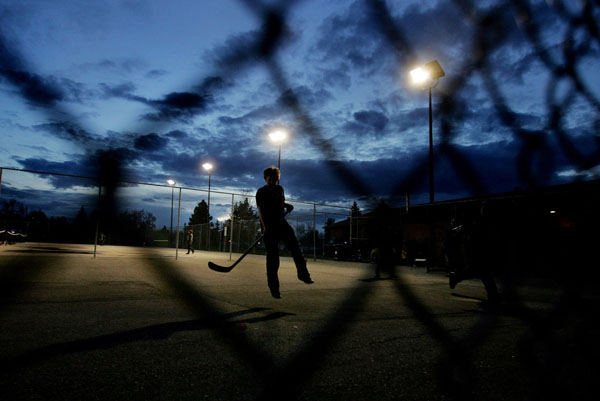 Leduc, Alberta – A boy plays street hockey at the Kinsmen Tennis courts on May 8, 2009. (Photo by Amber Bracken/ Sun Media)
What were your first steps in the industry?
I feel like I am still taking my first steps. And so far, they've been mostly bumbling and lucky.
I have spent just over a year at the Edmonton Sun, first as an intern and since last summer, as a staff photographer. Darryl Dyck was leaving for Vancouver to freelance and another staff spot was still vacant from Brendan Dlouhy's career change to EMT.
I still don't really understand why I was chosen. At the time, my only assets were one year of a two-year journalism program at SAIT, a really lame portfolio, and an impatience to get better. All I can say is I'm really glad I have this chance and I'm trying to make the most of it. Believe me, I know how lucky I am.
When you were a student, what did you want to do after graduation? Are you now where you thought you would be?
Well, I wanted the "internationally acclaimed, hero for social justice documentarian" job but, sadly, no one was hiring. It's not exactly an employee's market in photojournalism so I had no idea what I would be doing after SAIT. My plan was just to keep pushing until I figured it out. I guess that's exactly what I am doing.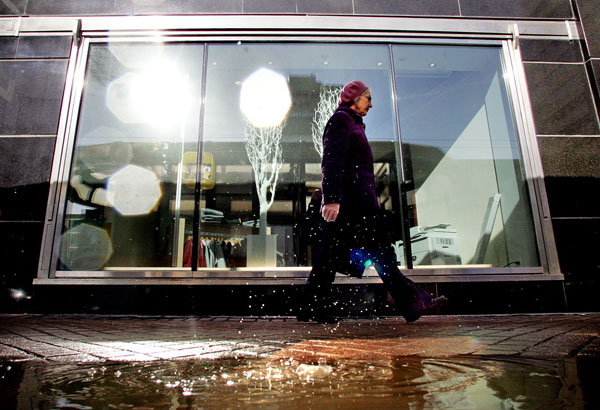 Edmonton – A man (no name given) navigates puddles at 103 Street and Jasper Avenue on March 4, 2009. (Photo by Amber Bracken/ Sun Media)
What or who are your biggest inspirations?
When I was a kid, my grandparents had a bunch of National Geographic magazines collecting dust on a shelf in their basement. They showed me how big, interesting and beautiful the world could be. It took me a while to put it together that those gritty, glossy, engrossing moments in the magazine were created by real people who really travelled and saw things no one else did. I wanted to be like those photographers, and I still do. That magazine, and now many other publications, remind me of the big picture I saw then, before I cared about corporate failings, ego, technology or the daily grind.
I also just love looking at other people's work. Constantly. Obsessively. And poring over some of the greats is definitely uplifting.
Another thing I love is listening to old stories from the glory days of photojournalism. The humour and passion of it all always gets me excited to go and make some stories of my own.
Do you have a mentor?
I have learned a lot from Jason Franson. When I first came to Edmonton, I felt a lot like the kid who'd been put ahead two grades in school: clueless. I've been able to catch up and start holding my own on a daily basis, mainly because of his help and influence.
I also owe a ton of gratitude to co-workers Dave Bloom and Jordan Verlage who both helped show me the ropes through practical advice (like how to get that perp shot when they're already in the cop car) and through the high bar set by their daily work. Everyone around me gives me cues that help me learn, especially the competition.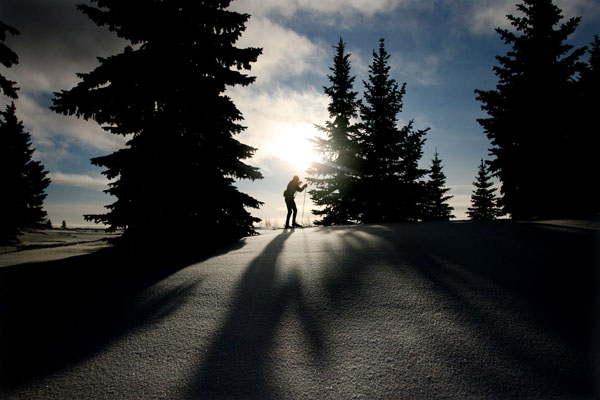 Edmonton – A cross-country skier is silhouetted while passing atop a snow ridge at Goldstick Park on December 28, 2008, during a clinic run by three-time Olympian and coach of the U.S. World Cup team Justin Wadsworth and his wife, gold medalist Beckie Scott. (Photo by Amber Bracken/ Sun Media)
What was a pivotal point in your career?
Without a doubt it was meeting Tom Braid, my current photo editor, at the 2008 NPAC conference in Vancouver. That meeting led to my internship, which led to him taking a chance on someone as unproven as me. I don't know what he saw but I am very grateful.
What are you working on now?
Right now I am just researching a couple of local ideas. The last year has been a huge learning curve, but I am getting ready to push myself a little further.
How important to you is multimedia?
Multimedia is great when it's done well but right now it's not exactly at the top of my list. I feel I owe it to myself to first master the medium I am passionate about. I don't want to be a bandwagon jumper producing crappy multimedia projects packed full of mediocre photographs.
After the ominously looming media apocalypse, there might be no jobs for photojournalists who can artfully tell a story in a moment unless they can tell the same story in 30 frames per second. Maybe. But I guess I'm hedging my bets.
I do shoot videos as a part of my regular job. I'm not really sure that's the same thing as multimedia storytelling, but I am learning skills that I could apply later on.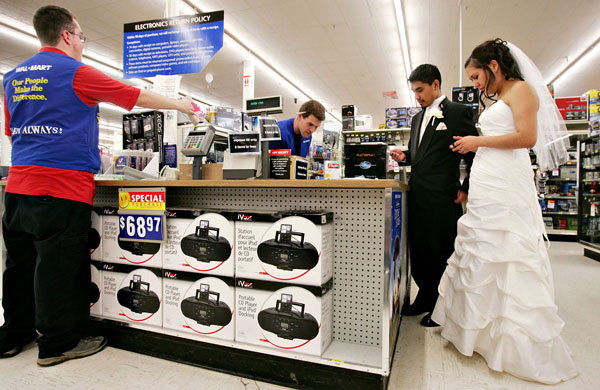 Edmonton – Newlyweds Josh and Natasha Sutherland do some last-minute shopping in the Capilano Walmart on April 11, 2009. Mrs. Sutherland says she desperately needed some lip gloss. (Photo by Amber Bracken/ Sun Media)
How do you ensure you are progressing as a visual journalist?
My rabbit hole got so deep so fast I couldn't help but improve as I scrambled for footing. I think it might have influenced a trend for me, too, in that I look for and get excited about situations that make me uncomfortable, like the upcoming Eddie Adams workshop.
At school, I realized that learning to be a photojournalist is not a passive pursuit. You cannot just do an assignment, wait for your grade and expect to get better.
The same thing applies to working for a newspaper. Every assignment is a learning opportunity. Even if I've done something similar 50 times, it's a chance to push my creativity to try and get something different.
What are some of the must-see websites you visit? Please include why you visit these sites (e.g. inspiration, guidance, information, education).
I make the daily rounds to lots of predictable sites:
Sports Shooterand NPAC for its forums and features; various wire and newspaper sites to see what's up; aphotoaday.org; MSNBC's The Week in Pictures and The Big Picture just to see good work published.
One site I go to that might be a little different is burnmagazine.org created by Magnum photographer David Alan Harvey. It's meant to be a platform for new and developing photographers. It showcases some really interesting work and I like that it is sometimes a little bit raw. For me, it's a little like spying on the process of getting good.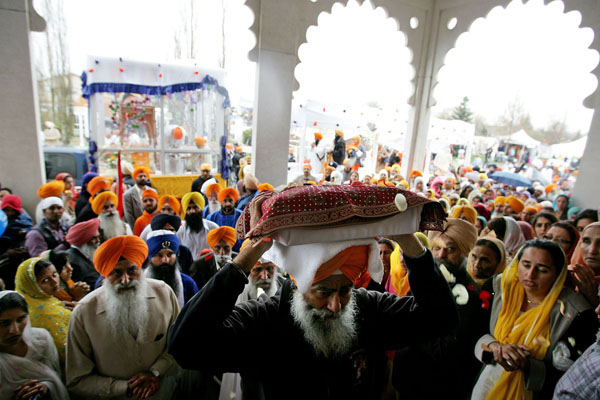 Edmonton – The Sikh holy book, called the Guru Granth Sahib, is carried into the Gurdwara Siri Guru Singh Sabha during the 11th annual Vaisakhi Nagar Kirtan on May 17, 2009. Vaisakhi, officially celebrated on April 14, is both a celebration of the new harvest season and the inauguration of the order of the Sikh brotherhood. (Photo by Amber Bracken/ Sun Media)
What is your favorite way to unwind?
I like to cook and eat while having a glass of wine. I like to be outside. I like to listen to music and edit photos. I like having beers with friends. I like to walk aimlessly with a camera.
What's the best piece of advice anyone ever gave you about being a photographer?
"P for picture." (Just kidding.)
I've been given lots of practical tips along the way that've been invaluable. But one of the most universally true and helpful pieces of advice I've been given isn't specifically about photography.
A veteran photographer told me not to get distracted by people's titles, positions, or social status. Whether it's the Prime Minister or a drug addict, everyone is a human being first and to treat them that way. It's simple but it has helped.
I also really like the saying that "you're only as good as your last picture" because it helps me keep up the intensity. If I get a good picture? So what, go get another one. And if I sucked today? Better go get something good.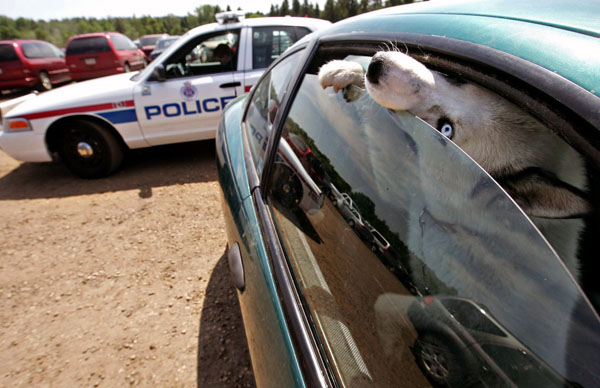 Edmonton – A dog tries to escape a sweltering car in the Valley Zoo parking lot while police wait for the arrival of Animal Control to assess the dog's condition, on July 1, 2009. (Photo by Amber Bracken/ Sun Media)