Photographer's Q&A – Simon Hayter
This week's Q&A is with Vancouver-based photographer Simon Hayter. His web site is simonhayter.com.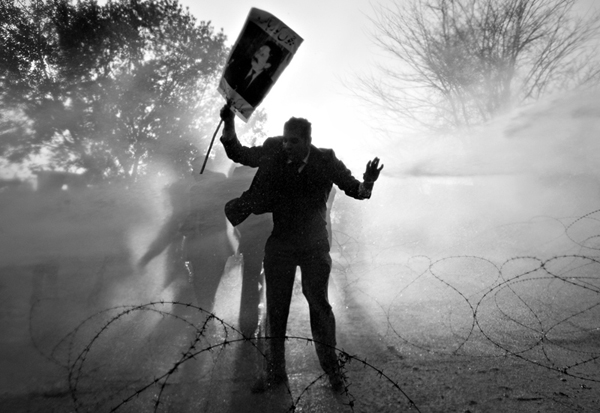 Rawalpindi, Pakistan – Lawyers protesting then-president Pervez Musharraf are beaten back with tear gas and water canons. February 2008. This is one of two images in a series for which Hayter recently won an Applied Arts Award. (Simon Hayter/ WpN)
What were your first steps in the industry?
My dad was a reporter and from a young age, journalism and current affairs were a constant presence in my house and around the dinner table. Before I headed off to school (first Ryerson University, then Loyalist College), I worked as a cub reporter at my local community newspaper, the Fergus/Elora News Express in Elora, Ontario. It was there that I made the transition from wanting to be a writer to wanting to be a visual journalist.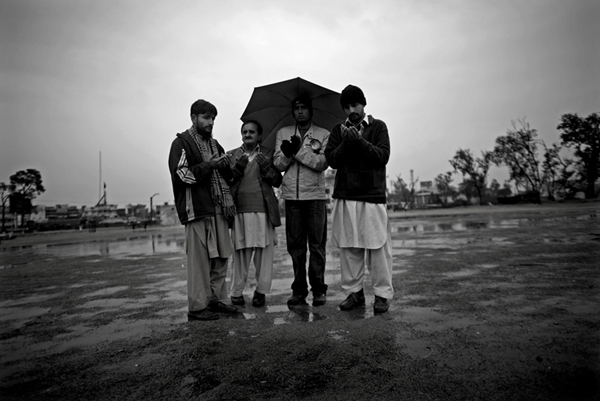 Rawalpindi, Pakistan – A small group of men pray together after attending a political rally for the Pakistan's People's Party in the turbulent days leading up to historic federal elections. February 2008. This is one of two images in a series for which Hayter recently won an Applied Arts Award. (Photo by Simon Hayter/ WpN)
When you were a student, what did you want to do after graduation? Are you where you thought you would be now?
I always thought the ultimate goal was to make a living doing meaningful work with my photography. I am constantly trying to live up to that with varying levels of success.
What or who are your biggest inspirations?
The list is huge and constantly evolving as I think it should for anybody involved in an artistic pursuit. I am currently in love with the work of Eamon Mac Mahon.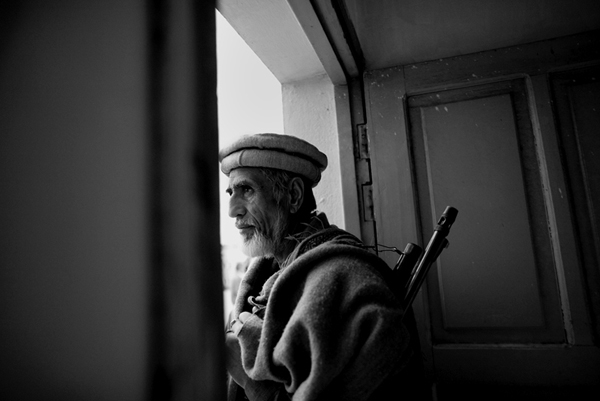 Peshawar, Pakistan – Ali stands guard outside an Islamist compound in Pakistan's North Western Frontier Province on February 17, 2008. Federal elections saw the hard-line religious parties routed in all but the most remote regions of the country. Hayter recently won an Applied Arts Award for this single image. (Simon Hayter/ WpN)
Do you have a mentor?
When I was starting out, Canadian photographer Taras Kovaliv took me under his wing and encouraged me to think about refining an approach and an aesthetic. He convinced me to make the transition in those early days to a rangefinder which, in the long run, had a big effect on my technique and style.
Roger Lemoyne has also been a big influence on my work and career. He has been kind enough to provide advice and direction.
What was a pivotal point in your career?
When I was an intern at the Ottawa Citizen, I did a long-term story with writer Dan Gardner that took us to Egypt, Turkey and Uzbekistan. It was a wild roller-coaster ride. I felt like the door was being opened for me to a whole new world of stories, issues and places. It felt real for the first time and I was absolutely hooked.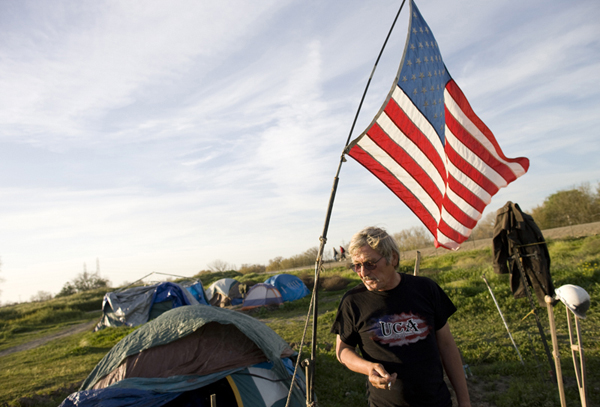 Sacramento, California – Gennadiy Tomashov, who lost his job as a trucker, at his home in Tent City on March 20, 2009. Approximately 300 people live in the community of homeless people, which has grown dramatically in recent months, forcing the state's capital to pursue a plan to shut it down. (Photo by Simon Hayter for Maclean's)
What are you working on now?
I am working on a series of projects dealing with social issues in Vancouver's Downtown Eastside, wrapping up a project for Chatelaine magazine, and then I'm off to the Yukon for the BBC.
How important is multimedia to you?
It is important but it's just a tool in the box. It's not the holy grail.
How do you ensure that you are progressing as a visual journalist?
Brutal self-analysis and a healthy awareness of the bigger picture.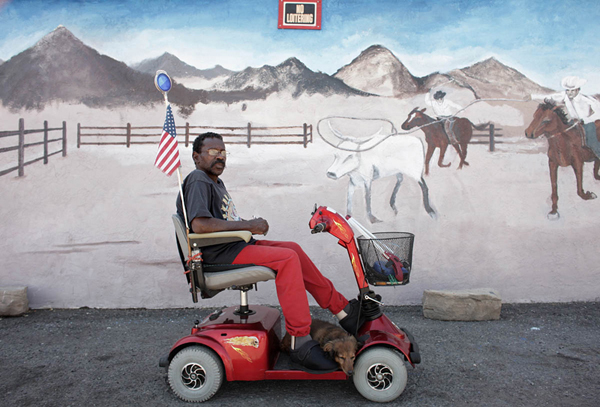 Greeley, Colo. – Harold, a 52-year-old pensioner. (Photo by Simon Hayter)
What are some of the must-see websites you visit? Please include why you visit these sites (e.g. inspiration, guidance, information, education).
Probably the same as most people's:
• Verve Photo for learning what other people are up to around the world, discovering new talent.
• New York Times for education and research.
• Reportage by Getty Images for inspiration.
What is your favorite way to unwind?
I race downhill mountain bikes, play with my large family of dogs, and drink a lot of beer.
What's the best piece of advice anyone ever gave you about being a photographer?
Shut up and get to work.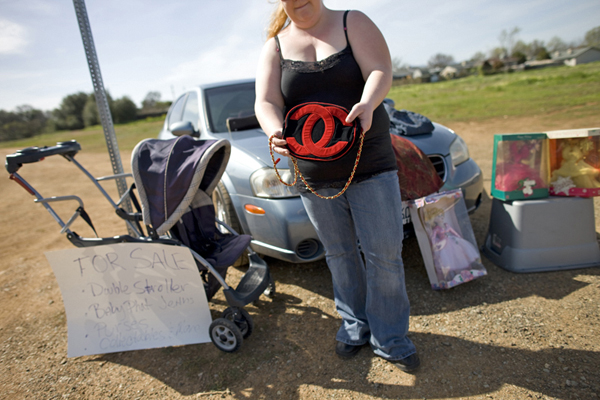 Anderson, Calif. – Jennifer Trisdale, 27, who is currently unemployed, sells some of her possesions at the side of the road on March 18, 2009 to help out with her family's bills. (Photo by Simon Hayter for Maclean's)