Photographer's Q&A – Mike Thomas
This week's Q&A is with photographer/photo editor Mike Thomas from the Yukon News. (Living way up in the Yukon makes Mike the "coolest" photographer in the country!)
Whitehorse, Yukon – A ballerina performs at a Tsunami relief concert. (Photo by Mike Thomas/ Yukon News)
What were your first steps in the industry?
I wouldn't necessarily call this a first step in the industry but it's a moment that has always stuck in my mind. When I was in Grade 5, my class was going on a field trip to Old Montreal. My mother had lent me an ancient, boxy-looking camera which my classmates teased me about. They said it wasn't a real camera, that it was a Mickey Mouse one. I promptly proved them wrong by opening its back and showing them the nicely exposed film!
When I was in high school in Montreal, I was mesmerized by the power of photojournalism. As I went on to college and university, I studied filmmaking and photography as a fine art, but kept my interest in photojournalism by working on the student newspapers (Champlain College's The Bugle and Concordia University's The Link). I had far more fun and got more inspiration from working on these papers than from anything I got out of class.
One day, while heading to one of my courses at Concordia, I saw one of my classmates photographing a rotting banana peel. Back then, in my fine art class, shooting images that represented the decay of civilization was in vogue. I shook my head with disdain and decided that being a starving artist wasn't going to be my goal in life.
In 1987, I followed my passion and applied to Loyalist College's photojournalism program. I went to Belleville, Ontario, with my Pentax K1000 and aging Takumar lenses. The second-year students with their modern Nikons and Canons sneered at me and my Pentax but I didn't fall for that trick again by opening the back of the camera!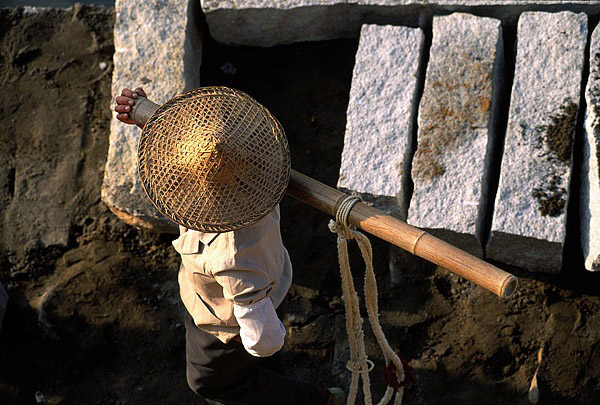 Fujian Province, China – A female construction worker in Ma Jia, Fujian Province, China. (Photo by Mike Thomas)
When you were a student, what did you want to do after graduation? Are you where you thought you would be now?
During school, I had lofty dreams of working on a major daily newspaper and eventually covering overseas conflicts. I would have never thought I'd end up living and working in the Yukon for the next 20 years. Go figure!
At the Yukon News, I have total freedom with my photography, and I am basically my own boss. That and the quality of life are the main reasons I've stayed up here for so long.
What or who are your biggest inspirations?
I can't really give an exact answer to that. While on the job, I've been inspired by so many people – just ordinary folks who've done not so ordinary things with their lives.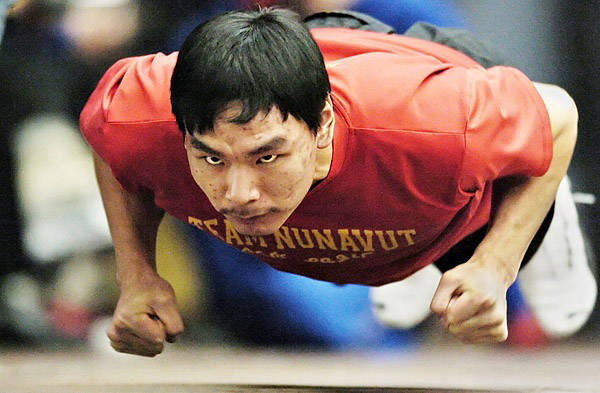 Whitehorse, Yukon – Joshua Bruce of Repulse Bay, Nunavut, in the knuckle hop during the Inuit Games at the 2007 Canada Winter Games. (Photo by Mike Thomas/ Yukon News)
Do you have a mentor?
No, not really. As a news photographer in the Yukon, I'm isolated. I've basically done things my own way. Of course, I've consulted colleagues down south for the odd advice.
What was a pivotal point in your career?
Still waiting for it ;)
I guess a small pivotal point for me came in 1993 when I jumped ship from the Whitehorse Star, a daily paper, to the Yukon News, which publishes three times a week. My vision of what a paper should be didn't mesh with the Star. After four years of disappointment there, the opportunity to work at the Yukon News came up. I was assured total freedom to pursue my style of shooting without any editorial interference from the owner. So, it was a no-brainer for me.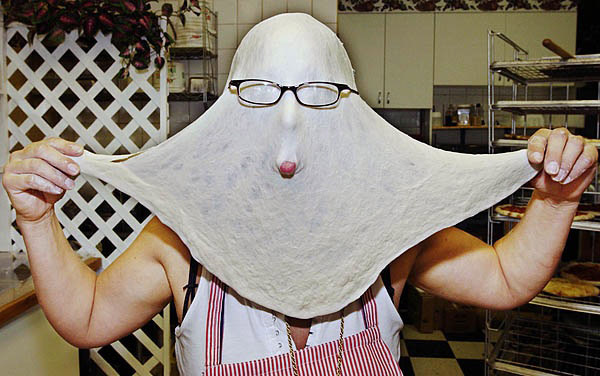 Whitehorse, Yukon – Mitch Cormier of Bocelli's Pizzeria demonstrates her pizza-making skills. (Mike Thomas/ Yukon News)
How important is multimedia to you?
I believe multimedia plays an important role. It's a great venue for storytelling and it's a challenge I welcome. My paper sent me to the Platypus workshop last summer, and the skills I learned were invaluable. But I do admit I have a love/hate relationship with video. The video camera still feels a bit awkward and cumbersome compared to a still camera. I'm still getting use to using a tripod. Hell, I rarely use one shooting stills!
How do you ensure that you are progressing as a visual journalist?
I'm always very critical of my work and don't rest on my laurels. I always know I can do better and strive to always improve as a photographer or visual journalist. I also often view work of others in my field, which can be inspiring.
What are you working on now?
Right now, I'm working on a two-month video project on a group of troubled First Nation youth who are carving a traditional dugout canoe from a massive cedar log brought up from B.C. They are working and living in a camp on an island on the Yukon River, north of Whitehorse, for the two months it will take them to complete the work.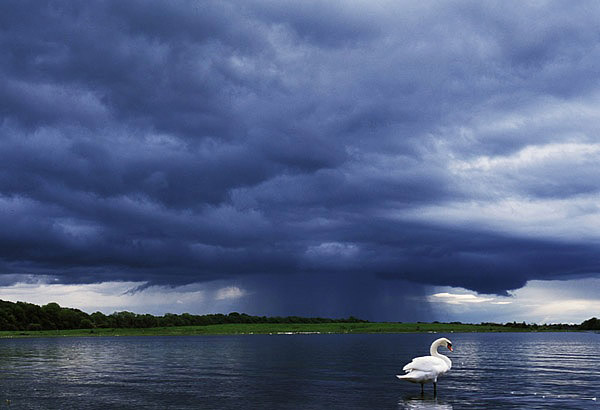 Loughrea Lake, Ireland – A brewing storm at Loughrea Lake in County Galway, Ireland. (Photo by Mike Thomas)
What are some of the must-see websites you visit?
I draw a lot inspiration from The Globe and Mail's multimedia section. The work there has been outstanding. Some of the other sites I peruse are:
What is your favorite way to unwind?
Drink fine Yukon beer with friends, hang out with my wonderful wife and two moron cats. Oh yeah, and kill evil enemies in online gaming – a great way to blow-off steam!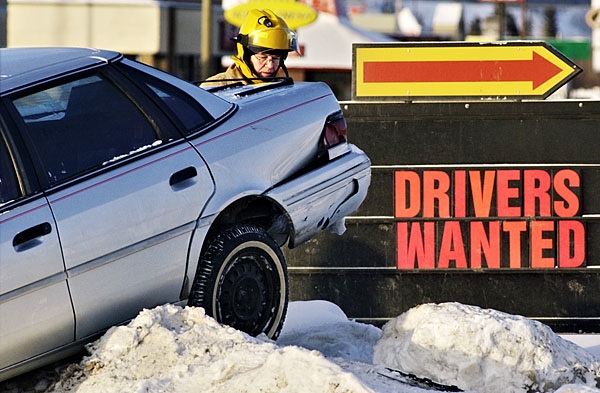 Whitehorse, Yukon – A driver loses control in front of a Domino's Pizza restaurant. (Photo by Mike Thomas/ Yukon News)
What's the best piece of advice anyone ever gave you about being a photographer?
"Do you have a girlfriend?" No. "Is your family holding you back?" No. "Well then, get off your high horse and get your ass up there." – Brad Henderson, former photo editor at the Toronto Star.
I interned in the Toronto Star darkroom in the summer of 1988. Even though I wasn't shooting for the Star, Brad was always willing to lend me guidance regarding my photography. In the fall of 1989, I was working at a small daily, the Brampton Times, in one of Toronto's sleeper communities. That was when I was offered a job at the Whitehorse Star. I hated the paper I worked on and always wanted to experience the lore of the Yukon. But I was hesitant to take the job because I had big dreams of making it onto a major daily. Brad had told me stories about when he started his career in Yellowknife and how it was one of the best times in his career. So I called him for advice and that's basically what he told me!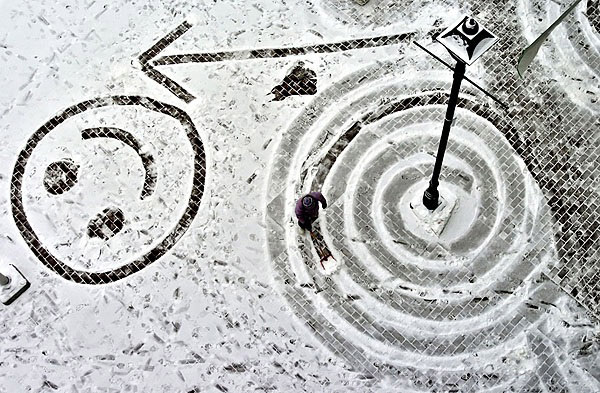 Whitehorse, Yukon – A young girl takes part in Valerie Salez's Civil Service performance art show. (Photo by Mike Thomas/ Yukon News)