Photographer's Q&A – Francis Vachon
This week's Q&A is with Quebec City photographer Francis Vachon. His web site is www.francisvachon.com.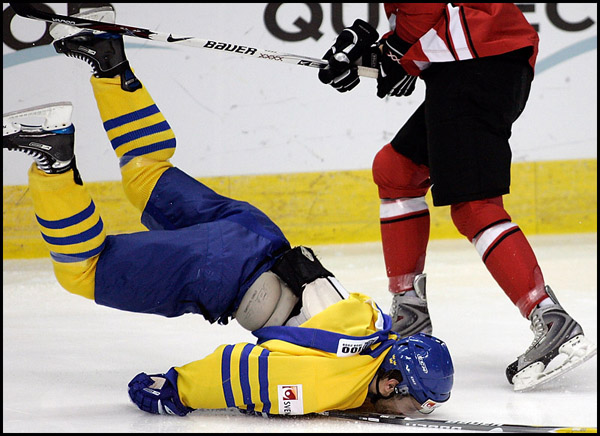 Team Sweden forward Marcus Nilson falls head first onto the ice in second period action at the IIHF world hockey championship Wednesday May 7, 2008 in Quebec City. THE CANADIAN PRESS/Francis Vachon
What were your first steps in the industry?
Loyalist really. Photography came late in my life. I was in a well-paid but very boring job. I thought I was going to be doing that job for the rest of my life. But at 30-years of age, before going into full madness because of this job I hated, I decided to do something else.
Photography was a growing hobby in my life. So I decided to quit my job, sell my condo, leave Quebec and go to photojournalism school (Loyalist College in Belleville, Ontario). That was a bold move but not for a moment did I ever regret that decision.
When you were a student, what did you want to do after graduation and are you where you thought you would be now?
I was hoping to get a staff job or travel the world as a freelancer. What I did not know at the time is that I would finish school with a girlfriend and a son on the way. So traveling was not an option anymore and I could not take the chance going from short-term contract to short-term contract all around the country.
I first had to secure a steady income by going back to my old boring job, (I actually just took a sabbatical when I left, just to be sure). After some time trying to freelance and trying to keep my day job, I had to take a decision.
A couple of weeks before my son arrived, I took a leap of faith and gave my resignation letter. I am now freelancing full time. Not exactly what I had in mind at first but I really enjoy it. I am not even sure I would take a staff job today if I were offered one.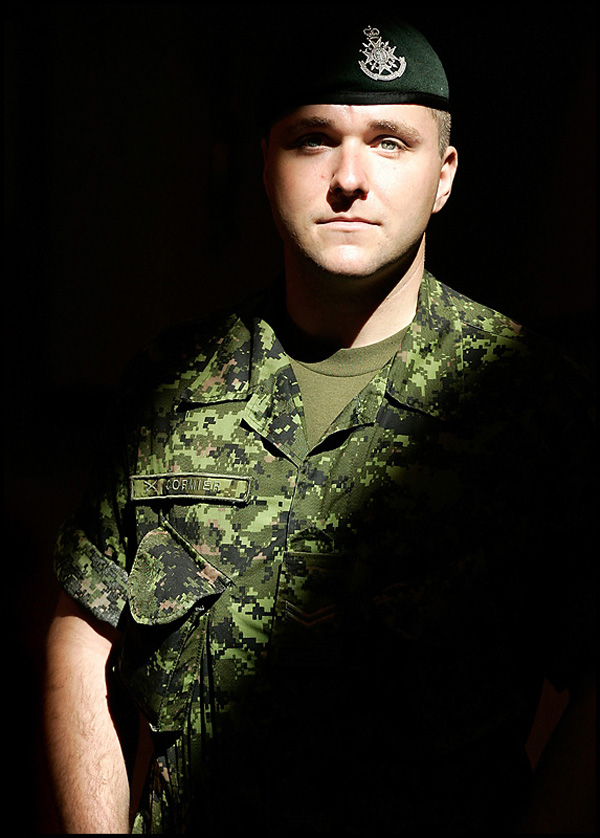 CFB Valcartier (Québec), June 15 2007. Corporal François-René Cormier of CFB Valcartier will be deployed in Afghanistan in the following months. Photo by Francis Vachon
What or who are your biggest inspirations?
James Nachtwey was a big inspiration when I was hoping to travel the world. When I was in Ontario, I really liked Toronto Star (now Globe and Mail) photographer Peter Power's work. He could get a picture out of nothing.
Did you have a mentor? How important are mentors?
I never really had a real mentor but many people helped me in many ways.
Bill White for his honest criticism. Loyalist College's Frank O'Connor for everything that he is. Canadian Press staffer in Quebec City, Jacques Boissinot, who sat down with me for a couple of hours to look at my portfolio, even though it was the first time I ever met him (and he still helps me in many ways today). Journal de Quebec staffer Didier Debucher who helped me when I was about to give up. Montreal Gazette photo editor (at the time) Lynn Farell who was the first to give me a chance. She could be harsh but she was always true. And of course, Windsor Star photo editor Bob Carroll!
What was a pivotal point in your career?
There were many, I guess. My summer contract at the Windsor Star and my internship at the Ottawa Citizen really allowed me to grow and get a lot of experience.
Meeting Lynn Farrell (Montreal Gazette) at Loyalist College's Advisory Board was also a very important moment of my career. When she learned that I was from Quebec City, and after looking at my portfolio, she asked me to let her know when I would be back in my hometown because she would use me there. And she did. She was the first to hire me and then it snowballed from there as my name went to the National Post and to Canwest News Service.
The third important step was when Jacques Boissinot, CP staffer, decided to use me to help him at the World Championship of Hockey in Quebec City. It was my first job for CP and it lasted for 16 days.
How important is multimedia to you?
Honestly, no clients ever ask me if I can shoot video. One time, the Gazette asked me to shoot a lot of still images so they could produce a slideshow.
Right now, I don't see how I could justify investing money in video equipment and microphones. Build it and they will come? Maybe? I don't know.
How do you ensure that you are progressing as a visual journalist?
Maybe 20% of my time is spent reading blogs, web sites, and watching videos about photography.
Conferences like the upcoming 'Photojournalism 2009' conference in Toronto is a must. As a student, if you are really serious about breaking into the business, you MUST go to this conference. If you are not serious, stop wasting your time, leave photojournalism school right now and go do something else.
What are some of the must-see websites you visit? Please include why you visit these sites (e.g. inspiration, guidance, information, education).
Strobist – This is where I learned how to use off-camera flashes. But I am sure everyone knows about this site now!
Sports Shooter – To keep up with the market.
NPAC – To keep up with the market.
Kelby Training – For education.
What is your favorite way to unwind?
Holding my son in my arms and playing with him. Nothing beats the sound of his laugh.
What's the best piece of advice anyone ever gave you about being a photographer?
Promise less than what you can deliver and deliver more than what you promised.