Photographer's Q&A – Deddeda Stemler
This week's Q&A is with Tofino, British Columbia, photographer Deddeda Stemler. Her web site is www.deddeda.com.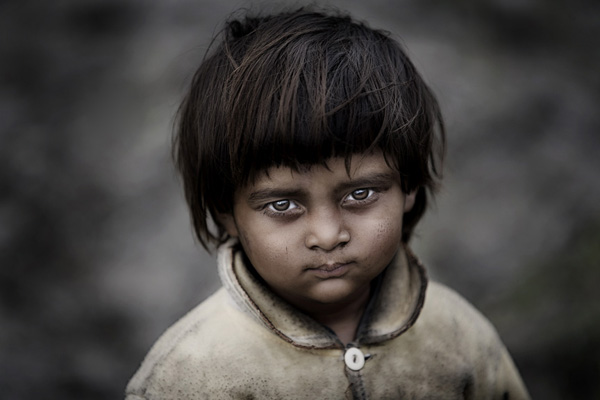 Families living in poverty in Pokhara, Nepal. Photo by Deddeda Stemler
What were your first steps in the industry?
Since I was given my first camera, a 110-cartridge film camera, from my aunt at age nine for my birthday, I've been passionate about photography. But I never really considered photography as a career.
In fact, when I was in university, I had this crazy idea that I wanted to work as a spy for CSIS (Canadian Security Intelligence Service). So I graduated from the University of Calgary with a BA in Sociology, with a concentration in criminology.
Immediately after writing my last exam, I took off to go live in New Zealand and Australia for a couple years. Traveling overseas completely changed my outlook on life! I soon realized that I wanted a career that I loved, one that enabled me to travel and take photos.
I came back home to Canada to attend the Western Academy of Photography in Victoria, British Columbia, and enrolled in the Professional Photojournalism and Journalism program.
But a month prior to graduation, I was offered a full-time job as staff photographer at a daily newspaper, the Medicine Hat News. So I packed up and moved to "The Hat", where I finished my portfolio to graduate and worked for a year-and-a-half, shooting more car accidents and fender benders than I'd like to remember. While in Medicine Hat, I was one of four professionals awarded to go on a professional exchange to India with Rotary International. Upon returning from India, I was offered a full-time job as a staff photographer at the Times Colonist Newspaper in Victoria.
When you were a student, what did you want to do after graduation and are you where you thought you would be now?
While in school, I wanted to work at a daily newspaper and I wanted to travel. Now I freelance for many daily newspapers, including The Globe and Mail and The New York Times, wire services such as The Canadian Press and Associated Press, and news magazines like Macleans. To my surprise, I am also shooting for travel magazines such as Canadian Geographic and the Holland Herald (KLM Dutch Airline's inflight magazine).
And, I am traveling more than I ever imagined!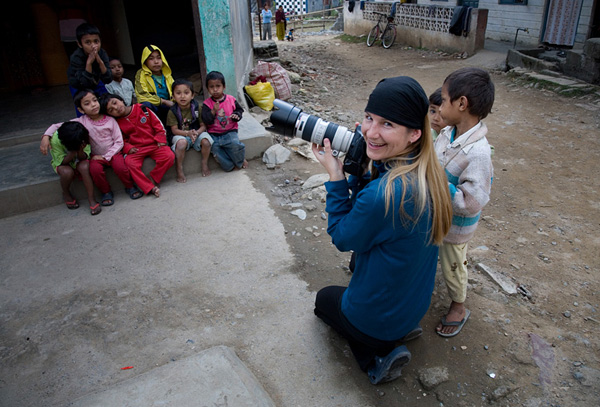 What or who are your biggest inspirations?
Ted Grant was a huge inspiration. After attending one of his photo presentations at school, I was blown away. He made quite an impact on me and I knew I wanted to be a photojournalist, just like him. Ami Vitale is another notable inspiration, as a fellow female photojournalist who travels the world taking beautiful images.
Did you have a mentor? How important are mentors?
While working at the Times Colonist in Victoria, I had four notable mentors on staff:
Bruce Stotesbury gave me invaluable advice and insight into my work. He helped me improve considerably as a photographer. He used to look at my selected images from the day and make comments such as, "Are you sure you want to submit that image? Quality Deeds, not quantity."
Darren Stone has a magical eye and so much artistic talent. So many times, I'd look at his images and just say, "Wow!".
Debra Brash would always come back to the office with the most amazing feature photos. It was so great to work with another female photojournalist, one who was always positive and encouraging.
John Cochrane, one of the photo editors, with years and years of experience, offered so much knowledge and advice. We'd often look through all the wire photos together, every night, and discuss our selects.
What was a pivotal point in your career?
There are three pivotal points in my career. One was getting the job at the Times Colonist. The second was my timing of holidaying in Thailand just when the 2004 tsunami hit which gave me the opportunity to cover a catastrophic event and have my photos published worldwide. The third was leaving the Times Colonist and working as a freelance photographer.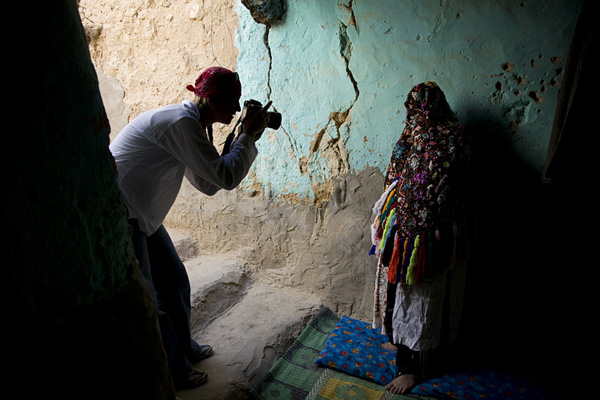 How important is multimedia to you?
I don't have much experience in multimedia but I would like to get more involved in the future.
How do you ensure that you are progressing as a visual journalist?
I try to challenge myself in my visual story-telling. I like to research and see what's out there. I try to stay informed on world events and what's happening in the news, as well as in my own community. I like to try new techniques and cover new subject matter. I am persistent. I rarely take "no" for an answer when people try to create barriers. I try to find a way around them to get the shot I want.
What are some of the must-see websites you visit? Please include why you visit these sites (e.g. inspiration, guidance, information, education).
Ami Vitale's web site.
What is your favourite way to unwind?
I like to get outside and be active. I particularly like to fly (with my paraglider), surf, climb, and camp on a West Coast beach littered with drift logs, next to an open fire and backed by the misty rainforest of old growth cedars.
What's the best piece of advice anyone ever gave you about being a photographer?
Make sure you always make time to shoot what inspires you, for you, just for the pure joy of it.