Vancouver Province photographer Colin Price (1943-2007)
Photographer Ric Ernst reflects on the loss of a colleague.
Former Vancouver Province staff photographer Colin Price passed away on Saturday September 29, 2007, after a lengthy illness.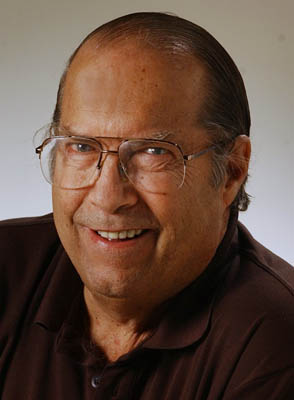 Photographer Colin Price. (Photo Les Bazso/Province)
Colin began his career with the Edmonton Journal at the age of only 17. He was also a staff photographer for Expo '67 in Montreal, after which he returned home to Burnaby, British Columbia, and began his tenure with The Province.
Colin's career was packed with adventures and awards. He won the inaugural Brian Kent Memorial Award for Sports Photography for his image of English runner Robert Denmark winning the 5,000-metre final at the 1994 Commonwealth Games in Victoria, B.C.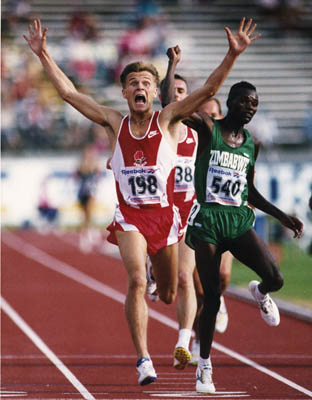 Robert Denmark wins the 5,000 meteres final in Victoria at the 1994 Commonwealth Games.
He was also honoured with a CP Picture of the Month award in 1976 for his photograph of two prisoners holding knives to the throats of hostage prison guards.
In 1989, he documented the scope of Canada's national train service as he crossed Canada with a reporter on VIA rail. In 1995, he was in Los Angeles for O.J. Simpson's "not guilty" verdict.
Colin's illness forced him to stop working for The Province in 2004 but that didn't stop him from taking pictures, especially when it was about motorsports. As recently as late April, Colin managed to muster up the strength to drive himself to downtown Vancouver in order to attend the Photojournalism 2007 conference.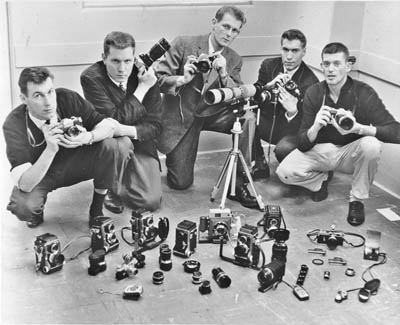 Province Photographers circa 1963. (L-R) Dave Clark, Gordon Beck, Dave Colville, Colin Price (Colin would be about 19 yrs. of age) and Ken Orr. (Handout – First staff photographers from the Edmonton Journal in 1963.)
I worked with Colin from 1991 to 2004 and can say I have yet to find a harder working person in this business who cared more about getting the "right" photograph and not just "any" shot.
A great story teller, he truly was an inspiration to all those who knew him. What impressed me most was that he started in this business using a 4X5 Speed Graphic with flash bulbs and ended his career using a computer to transmit his digital images. He did it all.
Co-worker and fellow staff photographer Les Bazso said, "It's a sad day for B.C. We lost a true professional. Colin lived and breathed photography. He was always cool under pressure. He had this innate sense of how to find the best photo to tell the story. It wasn't about Colin, it was always about getting the best picture. The only thing more important than photography to Colin was his family."
Colin was 64 and leaves behind his wife Vivian, his daughter Vivian and his son Stephen.
Ric Ernst
WCNPA President
Staff Photographer, The Province (Vancouver)