Do you have a permit to take that photo?
By Shannon Moneo
Photographer dumbfounded by policy that requires approval for taking pictures of the city's 80 totem poles.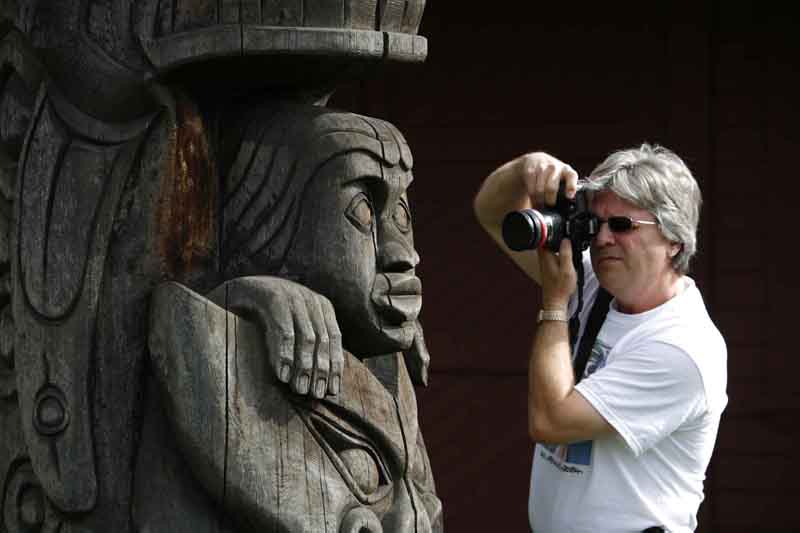 Len Langevin, president of the Cowichan Valley Camera Club, takes photos of totem poles in Duncan, BC, the "City of Totems". Photo by Deddeda Stemler
VICTORIA — A Duncan, B.C., photographer is seeing red after being told he must get the green light before he can snap a picture of one of the city's 80 totem poles.
"To ask for permission to take a photo of a totem pole ranks right up there with asking for permission to walk on the sidewalk," said Len Langevin, president of the Cowichan Valley Camera Club. "I don't know what they were thinking."
The city policy, created this summer, states that "the use of the totem images in any form requires approval from the City of Duncan." Applicants have to complete a form detailing how totem pole images will be used.
After living in China for three years, and seeing how personal rights were violated, Mr. Langevin, who designs learning materials and is well-versed in copyright law, gets a little "touchy" when excessive rules, such as the totem policy, are enacted. "It borders on extortion," he said.
Armed with his copy of the Canadian Charter of Rights and Freedoms, Mr. Langevin maintains that he can freely photograph public art.
His view is supported by a national expert in copyright and intellectual property law. If photographs of public works are for personal use and enjoyment, permission is not required, Mira Sundara Rajan, a University of British Columbia law professor, said. The policy is "completely impractical" in terms of how it would be enforced, she said.
Known as the City of Totems, Duncan owns most of the totem poles, a collection that it started in the early 1980s and that draws tourists and photographers from around the world to the Vancouver Island community, 60 kilometres north of Victoria.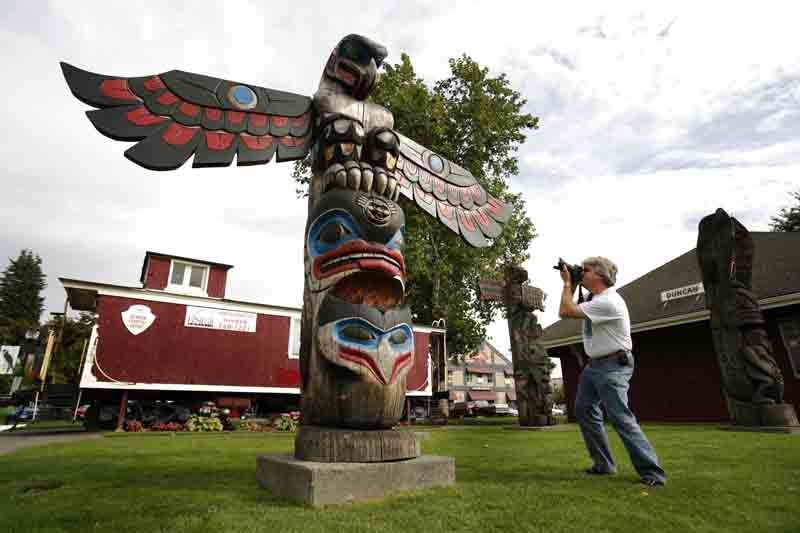 The city of Duncan has placed a copyright policy on its 80 totem poles which also states that any use of the images in any form requires approval from the City of Duncan. Langevin has created a group on Facebook protesting the policy. Photo by Deddeda Stemler
This summer, more people than normal asked city hall for permission to sketch or photograph the multicoloured totems, many sprinkled throughout Duncan's downtown and found via a yellow-footprint, self-guided tour. The queries prompted council to think about what sort of images were being created and whether money was being made from public art. City officials say the new policy is not intended to prevent tourists from taking single snapshots, but rather to crack down on commercial uses.
"We want people to talk to us about what they're doing," said Duncan Councillor Paul Fletcher, who, with local business people, formed the totem committee. Local natives, who created many of the totem poles, did not participate.
A commercial photographer, Mr. Fletcher said the city wants to ensure that no "derogatory" images of the poles make it into the public domain. Peter de Verteuil, Duncan's finance director, said the policy exists so "no willy-nilly products are created."
Nasty totem images have yet to rear their cedar heads.
The policy also allows for undetermined copyright charges and fees to be charged. "If the reproduction is for profit purposes, that's what we want to take a look at," Mr. de Verteuil said.
Normally, the creator of a work holds the copyright, but in Duncan the totem poles and copyrights were purchased during the past 20 years from the artists. After paying $5,000 and up, the city owns the copyright on all but one of the totems, Mr. de Verteuil said.
If the city receives money derived from totem images, the natives who carved the totems will not share in the proceeds. Prof. Sundara Rajan said the fact that the city paid for the copyrights does not make that right. It represents another case where aboriginal art has been claimed by another party that goes on to reap the benefit, she said.
Chief Harvey Alphonse of the Duncan-based Cowichan Tribes, which represents nearly 4,000 members, could not be reached for comment.
Elsewhere, the City of Victoria doesn't hold a copyright on any of its amenities or properties, spokeswoman Katie Josephson said.
The controversial modern sculpture in front of Victoria's arena and the Centennial Square fountain are fair game for photographers.
Even though Victoria is a major tourist destination, with the potential for commercial profit to be generated from Victoria photos, the need for a policy hasn't surfaced, Ms. Josephson said.
"How would you manage it?" she asked.
Mr. de Verteuil said Duncan will cross that bridge when it comes to it.
Deddeda Stemler and Shannon Moneo are both Vancouver Island freelancers.